Staingard
Staingard comprehensive furniture protection offers customers complete peace of mind by providing the best furniture care plans with up to 5 years protection against accidental damage, staining and structural defects.
Our aim is to provide the most comprehensive warranty service from start to finish to help protect customers purchases.
Purchase Options for Staingard:
£40 per fabric seat
£45 per leather seat

As an example, a 2 seater fabric sofa would cost £80 for full Staingard protection.
To purchase Staingard, you can choose to add this product to your basket with all applicable products. Alternatively, please call us on: 01506 829447 or via our contact form.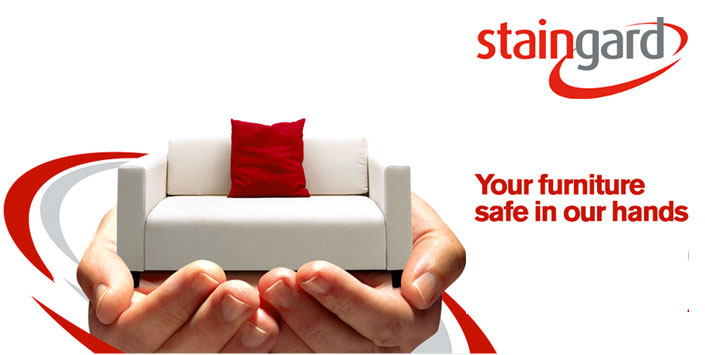 With technicians strategically located all over the UK, Staingard are able to a provide fast and effective customer response to delivering a professional on-site furniture repair service. Staingard technicians are fully trained in every aspect of furniture repair, be it cosmetic or structural and each repair comes complete with their unique Passion for Perfection. Calls and enquiries are processed with the maximum efficiency at their centrally located call centre, which also boasts a second to none, furniture repair facility to deal with major repairs that require extensive work.
Benefits of Staingard
5 Years Protection

24 Hours a day Claim line

Original value replacement

National network of professional technicians

No excess charge

Summary of Cover & Protection
Stains

Acids

Cosmetics

Shoe Polish

Ink

Bleaches

Caustics

Corrosives

Paints

All food stuff & drink

Superglue

Coffee

Cola

Human & Animal Bodily Fluids

Dyes and dye transfer from newspaper print or clothing

Accidental Damage
Rips
Burns
Scuffs
Punctures
Scratches
Breakage, dents or chips
Water, liquid or heat marks
Pet damage
Structural Damage
Frame warpage and breakage

Peeling of veneered or laminate finishes

Lifting or peeling of the hide on leather furniture

Broken zips, castors and buttons

Bending and breakage of metal components

Failure of recliner mechanisms including electrical motors and associated electric components
Significant Exclusions
Commercial use

Deliberate damage

Abuse or neglect

Removal of odours

Wear and tear

Natural characteristics of leather

Fading of fabric and materials

Accumulated multiple stains

By purchasing the Care Plan, you confirm that you have reviewed the Insurance Product Information Document (IPID) and that it meets your Demands and Needs. You confirm you do not want to pay to restore your furniture in the event of an accidental stain or if it becomes accidentally damaged, that you do not wish to use your home insurance as you may incur an excess and a potential impact on premiums when renewed, and that you understand the Care Plan is not a general cleaning contract but a policy that provides cover for specific incidents.