Copenhagen Grand & Stockholm 2 Seater Sofa Set and Footstool by Alstons (Clearance Item)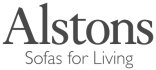 Not quite ready for delivery but don't want to miss out?
No problem - We can store your bargains free of charge until you are ready!


Grand Sofa: W228 x D100 x H95cm
2 Seater: W185 x D100 x H95cm
Stool: W99 x D58 x H37cm

Dimensions:
W:228cm D:100cm H:95cm

Hurry - Last Set!

Hurry - Last Set!
Note: Currently not available for delivery to England & Wales, Non-Central Scotland & Highlands and Non-UK Mainland Addresses.
Product Description
Copenhagen Grand & Stockholm 2 Seater Sofa Set and Footstool by Alstons (Clearance Item)

Grand Sofa: W228 x D100 x H95cm
2 Seater: W185 x D100 x H95cm
Stool: W99 x D58 x H37cm

Availability:
Hurry - Last Set!

Not quite ready for delivery but don't want to miss out?
No problem - We can store your bargains free of charge until you are ready!

About Clearance Goods:
Clearance goods are sold as seen from our award winning showroom and are generally ex-display. As such, they may have minor imperfections or marks - Please make sure that you have had a chance to inspect items prior to purchasing. If you would like any more information on items in our clearance section, please give us a call on 01506 829447 and one of our sales team will be delighted to assist.
Delivery / Collection
For large furniture items we provide a full White Glove service when delivering your goods. This means a two man delivery team will unpack, assemble any furniture pieces that require to be built up (including flat pack), place your furniture in its desired location and offer to take away any packaging. You will also be asked to sign your delivery document to ensure that you are completely satisfied with your furniture. Goods are also available to collect directly from our store once they arrive into stock. However, please be advised that many items to order require assembly and will be supplied unassembled in their packaging. If self assembly is a concern, we would advise customers to consider our White Glove delivery service. Items such as accessories, wallpaper and rugs are dispatched via courier. An option to collect items from our store once they come into stock is also available.
Displayed Products & Variations
Products pictured on our website are for demonstration and display purposes. These can appear differently in certain light conditions in these pictures so we would always ask customers to take the opportunity to view products and samples in-person to avoid any mistakes when ordering.
Product Features
Dimensions: W:228cm D:100cm H:95cm
Collect in Store
This item can be collected from our store once in stock.
Home Delivery
UK mainland delivery from £45.00
People who bought this also bought...
---